Georgia Property Taxes 101
The typical tax rate in the Peach State is 1-1.5% of a property's market value. Property taxes in Georgia change slightly from year to year and vary greatly between counties. For example, property owners in Appling County pay just $544 in property taxes on average, whereas property owners in Fulton county pay five times as much, at $2,901 on average.
The assessment date for property values in the state of GA is January 1st. Tax assessment notices typically come out between late May and June and for most counties, taxes are due between mid-November and December 20.
---
How Properties are Appraised and Taxed in Georgia
Each year, the County Board of Assessors (BOA) uses mass appraisal technology to determine the market value of all properties based on factors such as use type and neighborhood. Market value is defined as "the amount a knowledgeable buyer would pay for the property and a willing seller would accept for the property at an arm's length, bona fide sale."
The BOA then multiplies your property's market value by the assessment ratio to calculate your property's taxable value. The assessment ratio for all counties in Georgia is 40%. The result of multiplying the assessment ratio by the market value is the taxable value of your property.
In the final step, the BOA multiplies the taxable value by the tax rate. The property tax rate varies from county to county, and even differs between municipalities within each county. To calculate effective tax rate, some counties use millage to express their tax rates. A mill is one one-thousandth of a dollar, and in property tax terms is equal to $1.00 of tax for each $1,000 of assessment. 15 mills, therefore, is equal to $15 for every $1,000 of assessed value, or 1.5%. Some counties, such as Gwinnett, show the mill rate already divided by 1,000. The millage rate can be confusing and not every county expresses their tax rate in mills.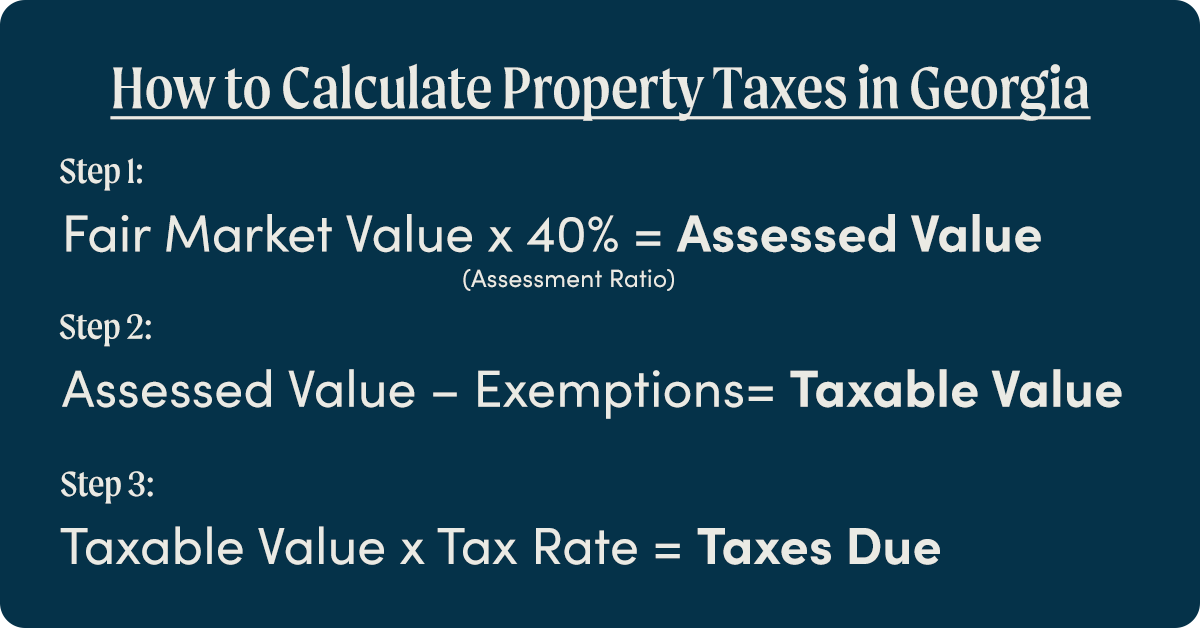 Example:
Step 1:
$462,588 x 40% = $185,035.20
Step 2:
$185,035.20 – $2,000 = $183,035.20
Step 3:
$183,035.20 x 3.20% = $5,857.13
---
How to Save Money on Property Taxes in Georgia
Property tax exemptions in Georgia can reduce your property's assessed value and, therefore, your taxes. There is a statewide homestead exemption for $2,000. However, this applies only to the statewide property tax.
The major exemption that Georgia offers property owners is the homestead exemption which applies only to the homeowner's primary residence. The homestead exemption allows you to take a predetermined dollar amount taken off your yearly taxable account. In some municipalities, your homestead exemption can also cap the percentage increase in your property's taxable value by 3% or to reflect the consumer price index (CPI) at the time of assessment. The county will use whichever value, 3% or CPI, is lower.
While the homestead exemption is the main property tax exemption offered in Georgia, there are further exemptions that are offered to individuals with specific qualifications. The additional exemptions are offered to individuals who are senior citizens, have a disability, are veterans with a 100% VA rated disability, or are the child or unremarried spouse of a deceased veteran. This is not an exhaustive list and these exemptions do not have uniform requirements set by the state, so please check with your local county assessor's office to see if you qualify for these further savings.
Beyond taking every exemption you qualify for, you can also appeal your property's assessed value with the county.
---
How to Appeal Property Taxes in Georgia
If after receiving your assessment notice you think your property has been inaccurately assessed, you can file an appeal. You'll have 45 days to appeal with the Board of Assessors after receiving your notice and can find instructions for appealing your property taxes on the county website.
After submitting an appeal, the BOA may offer to adjust a property's taxable value based on the evidence submitted. If a reduction is offered, the property owner is not obligated to accept the offer. Typically, the offer is a fraction of the amount a property owner or agent could receive if they choose to push the appeal to the Board of Equalization (BOE).
The BOE is considered a formal hearing in which the board of hearing officers will listen to the appeal and make a ruling. The expected appeal timeline of a BOE hearing is around 180 days.
Note: In situations where an appeal was not resolved by the time a tax bill was mailed, you are required to pay a temporary bill. Legislation HB 197 states that if a property's value is under appeal, the taxpayer has the option to pay 100% of the proposed bill, the lesser of 85% of the proposed bill, or taxes based on the prior year's value. Once the appeal is resolved, the tax bill will be recalculated to factor in the payment already submitted.
299c Lock / Freeze
One major misconception about appeals in Georgia relates to the 299c lock, more commonly known as the "3 year freeze." The 299c lock is implemented when a property owner takes their appeal to the BOE and their value is reduced. When this happens, the BOE "freezes" the property's value at this reduced value for 3 years. For a 3 year freeze to be officially implemented, it has to be drafted into the settlement.
Note that this "3 year freeze" does not apply in two cases. First, it does not apply when a property owner accepts a BOA reduction or if the property owner does not attend their BOE hearing. It is surprisingly common for property owners to fail to show up for their hearing, but this has the consequence of preventing you from qualifying for a 299c lock. Furthermore, in many cases if a property has a "3 year freeze" and is sold during this "freeze", the new owner does not always inherit the value locked price. However, whether a 3 year freeze is honored after a sale or not is dependent on the county assessor's office. So, new property owners should strongly consider appealing their property taxes as soon as possible to try to lock in your property value at the lowest rate.
One area of concern for new owners is the value cap. Under Georgia Senate Bill 346, the taxable value of a property cannot exceed the sales price of the property for the year following the transfer of ownership. However, once this cap is no longer be in effect new property owners will no longer have tax protection against property value spikes. For property owners who have enjoyed this value cap this past year, it is important to appeal your property taxes as soon as possible to get the 3 year freeze implemented.
It can be time-consuming and confusing to appeal property taxes in Georgia. Ownwell can handle the entire appeal process on your behalf. Our team of local experts will put their intimate knowledge of your county's appraisal districts policies to work in order to build an appeal that can maximize your chances at getting a property tax reduction.
---
Georgia's County Assessor Information
*Appeal deadline as indicated or within 45 days of the postmarked date of the mailed Notice of Assessment
**Tax rate calculated by multiplying mill rate by 40% (assessment ratio)
---
Sources:
Fulton: https://www.fultoncountytaxes.org/property-taxes.aspx
Cobb: https://www.cobbtax.org/property/millage_rates.php
Gwinnett: https://gwinnetttaxcommissioner.publicaccessnow.com/PropertyTax/BillingInformation/MillageRates.aspx
Cherokee: https://www.cherokeega.com/Tax-Commissioners-Office/millage-rates/
Forsyth: https://www.forsythco.com/Departments-Offices/Board-of-Assessors#millage
DeKalb: https://dekalbtax.org/documents-forms
Tax rates are not uniform throughout each county. Percentages reflect the average rate for the county as of 2021.