Washington State's tax rates are below the national average, because state legislation states that non-voter approved taxes cannot exceed 1%, and the total tax levy in an area cannot increase by more than 1% in a year. The average effective tax rate is 0.93% and the median annual property tax payment for Washington property owners is just over $3,600.
Property taxes in Washington are calculated by multiplying the county tax rate by the property's assessed value. If you believe your property is inaccurately assessed and your taxes are too high as a result, you can appeal the assessment with your local county.
However, it is important to be aware that property owners in Washington state face some unique challenges when appealing their property taxes. Unlike states like Texas, where the burden of proof is on the state to defend their appraised value, Washington puts the burden of proof on the property owner to support any claim of an inaccurate assessment.
Furthermore, appealing your property taxes in Washington in rare cases can actually lead to the county increasing your property's assessed value, thus increasing your taxes. Therefore, it can be especially helpful to engage with a property tax consultant who can help you evaluate the strength of your case and potential risk of assessment increases before deciding to pursue an appeal with the county. When opting to pursue an appeal it is vital that you have clear and convincing evidence to support a claim of reduced value. Appealing without strong evidence puts you at higher risk of having your appeal denied or not receiving a reduction on your property taxes. Working with experienced property tax experts can help you evaluate whether your specific circumstances are likely to lead to a reduction, as well as build the strongest case possible that can reduce your property's assessed value.
---
How Property Is Appraised in Washington
Each county's team of assessors use a variety of methods to appraise all taxable property at 100% of its true and fair market value. Market value is defined by the assessor as the monetary amount a willing and unobligated buyer would be willing to pay an unobligated seller for a specific property. This value is calculated by using one or more of the following appraisal methods: market or sales comparison, cost approach, and income capitalization approach for income producing properties.
The assessed value will also factor in any potential exemptions or reductions. Typically the assessed value is lower than the market value. In a situation where the county assessed value is higher than the market value, property owners have a strong case for an appeal.
To calculate your tax liability, you will need to know the assessed value of your property as well as the local county levy rate. While the assessed value will be included in the property value notice sent by the county, the levy rate is not always included. The levy rate is assigned by the county assessor's office and can be found on their website. You can calculate your property tax liability by using the formula below.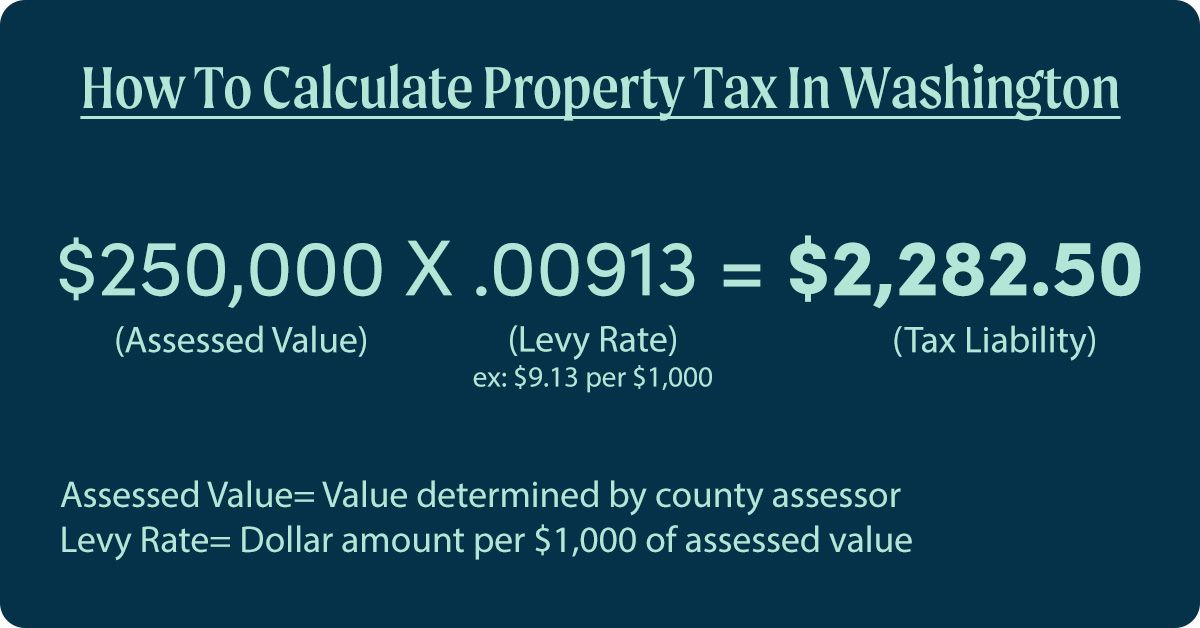 ---
How to Save Money On Property Taxes In Washington
Property owners are encouraged to file for every property tax exemption they qualify for. Tax exemptions are available for senior citizens and people who are no longer able to work due to disabilities. Veterans with a VA disability rating of 80% or higher also qualify for property tax exemptions as well. Washington also offers tax assistance programs for widows and widowers of veterans as well as tax deferral programs for limited income homeowners.
Another potential source of savings is available if your property has been partially or fully destroyed or is located in an area impacted by a governor declared disaster area and has lost over 20% of its market value as a result of a natural disaster. Washington state residents may receive a tax reduction by filing a Destroyed Property claim.
Beyond this, appealing your property taxes can help you save money if your property has been inaccurately assessed.
---
How to Appeal Property Taxes in Washington
Washington has a provisional filing deadline of July 1st of the assessment year. However, for all value notices sent after June 1st, the deadline for filing is extended to 30 days from the postmarked date of the value notice.
To start an appeal, you will need to either file a Taxpayer Petition for Review of Property Valuation Determination form with the county where your property is located or appoint a tax consultant such as Ownwell who can file on your behalf. Your appeal must be submitted using this form; letters or phone calls are not acceptable forms of submission in Washington. These forms are available online at the Washington Department of Revenue's website, or at any local county board of equalization and assessor's offices. All submitted appeal forms are required to be time-stamped before midnight of the deadline date.
In Washington, the burden of proof is on the property owner (or tax consultant working on their behalf). This means to win an appeal you must provide clear, cogent, and convincing evidence your property is overassessed. The County Board of Equalization requires an evidence packet that supports any value claims to be submitted as part of the appeal process. Some examples of acceptable evidence include: proof of a recent third party appraisal of the property, documentation of excessive deterioration or quotes for repairs required for the habitability of the property, and sales comparables for properties with similar characteristics that reflect a lower value. All information must be provided at least 21 business days before the hearing.
---
Evidence To Strengthen Your Property Tax Appeal
You can maximize the likelihood of a reduction by including compelling supporting evidence and information. Ownwell's property tax consultants have access to appraisal software which can provide highly accurate sales comps and value estimates. However, it's still important for you to include additional information to supplement the primary components of the evidence packet such as property condition, photo documentation of damage or problems, as well as estimates for repairs. Your case may be further strengthened with information such as unequal features such as scenic views, waterfront access, or accessibility problems, condition of property, documentation of damage or problems and any information that does not match the data on record with the county such as square footage of living areas. By including a well-rounded evidence packet, you will have the flexibility to approach the county's rebuttals from multiple angles.
---
The Hearing Process in Washington
All appeals will go through the County Board of Equalization. Once an appeal form and evidence packet is submitted, the County Board of Equalization will contact you or your appointed property tax consultant with a scheduled time, date, and location for the formal review hearing. During this formal review hearing, either you or your appointed property tax consultant and the county assessor will be provided with the opportunity to give a spoken statement and provide written evidence supporting any claimed value of the property to the County Board of Equalization.
Using the evidence collected prior to the hearing, you or your property tax consultants then need to present, what the board deems, a clear and convincing argument as to why the property was over assessed and that true value of the property is best reflected by this evidence. Following the hearing, the Board of Equalization will issue a decision within 45 days of the hearing.
If you wish to further contest the Board of Equalization's decision, you can appeal to the Washington Board of Tax Appeals (BTA) as long as you file within 30 days of the Board of Equalization's postmarked decision. When taking an appeal to the BTA, you will still need to file your taxes for the county assessed amount and then need to petition the Superior Court for a refund based on the final adjusted amount.
---
Washington's County Assessor Information
Information accurate as of June 3, 2022
*filing dates as written or within 60 days of the postmarked date on the notice card. Whichever is later.
**filing dates as written or within 30 days of the postmarked date on the notice card. Whichever is later.
Source:
King: https://kingcounty.gov/depts/assessor/2021Taxes.aspx
Pierce: https://www.piercecountywa.gov/7152/Levy-Reports---2020-Values-2021-Tax
Snohomish: https://www.snohomishcountywa.gov/2208/Annual-Reports
Clark: https://clark.wa.gov/treasurer/tax-rates
Kitsap: https://www.kitsapgov.com/assessor/Documents/Book2022.pdf
Skagit: https://www.skagitcounty.net/Departments/Assessor/main.htm
Thurston: https://www.thurstoncountywa.gov/treasurer/Pages/tax-rates.aspx